Although Lygon St in Carlton is the name on every tourist's lists when they want to eat out in Melbourne, unfortunately the food is mostly pedestrian, and sometimes awful!  JB and I have a running joke about one "traditional" Lygon street establishment that we allowed a friend of a friend to drag us along to, even though we suspected that it was going to be awful.  
So the list of places I will gladly eat?  Balzari for anything, TiAmo and University for cheap pasta, Lygon Street Foodstore for Coffee and Chocolate, Carlton Espresso for light lunch … and Donnini's. 
JB and I agreed that we don't eat here often enough – thinking that we go there too often.  But we don't.  And we should!
We shared a Pizza  with Pancetta, cheddar and onion, with our waiter suggesting a turn of black pepper to complete the dish.  The cheddar was subtle, the pancetta full of flavour and not too salty, and the onion sweet.  But the toppings were surpassed by a delightful, thin but chewy, yeasty, flavourful dough.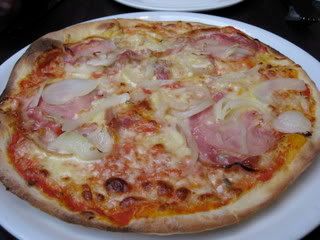 While waiting for our pasta I caught the attention of our host who was obviously planning and note taking.  I was a bit bemused, everyone did seem to be "on their toes" and maybe a little bit edgy.  Turns out there was a good reason for this.  New Years Day is their busiest day all year bar none.  Up to 30% busier than other days.  We had turned up early (around 6pm)  for an early dinner / very late lunch after a film.  By the time we left at 6:45 they had a waiting list and had just started turning people away.  
There weren't a lot of restaurants open on News Year's Day, and Donnini's have obviously taken advantage of it. (This is not  bad thing).
I ordered Orecchiette to share,  with pancetta (again with the ham!), peas and tomato.  As we've come to expect from Donnini's, the pasta was superbly cooked and the sauce was "just right".  The sweet fresh peas balanced the salty pancetta and the tomato held it all together.
With 2 glasses of wine and a chinotto we spent around $70 and very satisfied.. 
Donnini's 
320 Lygon St
Carlton, 3053
03 9347 3128